Apply November 15 to January 31
Kings Mountain Art Fair is pleased to offer our artists the ability to submit applications online!
Please read the Art Work Criteria, application fees, and How to Apply before applying.
General
The Kings Mountain Art Fair (KMAF) is a three-day outdoor exhibition held annually Labor Day Weekend in the redwood forest. The primary focus of the event is the juried exhibition of gallery quality fine arts and fine crafts, giving our customers the rare opportunity to meet, interact with, view the works of, and purchase art from the individuals who have created it. Nearly 125 juried exhibitors are selected each year – you are invited to apply!
KMAF Inc. is a not-for-profit organization. All proceeds from the Fair are used to support the Kings Mountain Volunteer Fire Brigade (purchase vehicles, supplies and equipment), the Community Center building (repairs, utilities, and insurance), special programs for area youngsters and students at our public school, and to cover the Fair's expenses. KMAF is self-supporting. No public tax dollars or grants are involved. There are no "corporate" sponsors. All Art Fair workers volunteer their time.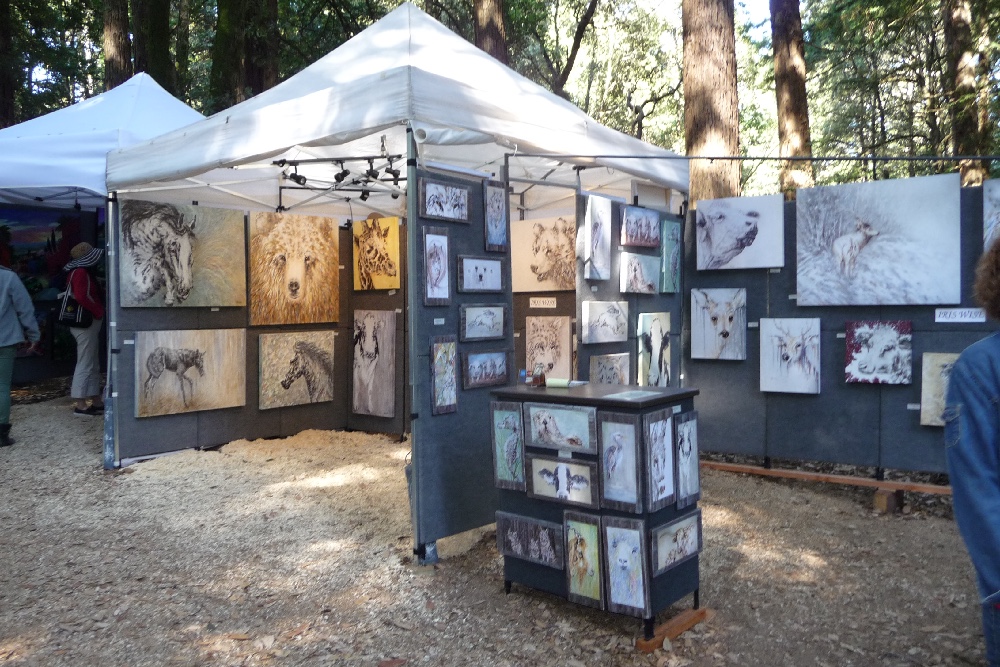 Essential details on exhibitor participation follow and should be read carefully prior to application. Please note that applications are accepted beginning November 15 and must be received by January 31.
Participation of the artist is required at the Fair. Please do not send a representative in your place. Only works of art created by the artist accepted as an exhibitor at the Art Fair may be displayed or offered for sale. Work exhibited must be comparable in size, style and quality to the work presented in the application accepted by the jury. Works beyond the scope or medium as originally accepted by the jury will be prohibited from exhibition.
Art Work Criteria
All work exhibited must be original art produced by the applying artist. Work that has been produced with commercial kits, molds, patterns, plans, prefabricated forms, or other commercial methods are not permitted.
Studios involved in volume production are not permitted.
Artists may exhibit a majority of original paintings and some limited edition prints. All prints and no originals are not allowed.
Multiple originals, such as etchings, serigraphs, offset lithographs and lithographs properly signed and numbered within reasonably sized editions, are by definition fine art and are acceptable. Limited edition prints executed in processes involving four-color separation, acid free ink, archival paper, and/or hand work by the artist are also permitted. Printmakers and photographers are strongly encouraged to do their own printing.
The work exhibited must be consistent with the application submitted by the artist and KMAF guidelines. Compliance will be verified during the Art Fair. KMAF has the right to require that any other work be immediately removed from the show. Failure to comply may result in exhibitor's removal from the show with no refund of fees and exhibitor's right to exhibit in future Art Fairs may be refused.
Fees
A non-refundable fee of $20.00 must accompany each application. This may be paid online with a credit card via PayPal or by mailed check made payable to KMAF. If accepted, there is a $100 entry fee and 15% commission on sales. There will be a charge of $25 for returned checks. All sales taxes are the responsibility of each artist and a California Seller's Permit is required by the State (800-400-7115 or www.boe.ca.gov).
Spaces
Spaces are at least 10′ X 10′. Many can be "free-form" beyond that. There are no "double" spaces available. The redwood forest location prevents us from offering any perfectly level spaces and the terrain can be rough; many spaces can be challenging for setting up a booth. Every attempt is made to be fair about distributing the fewer than 130 spaces. Fewer than 50% of the spaces have adjacent space for unloading/loading vehicles. There is no electricity and generators are not allowed.
Different categories may not be combined in the same booth. Paintings and such display best on A-frames. Individual booth assignments are made to create an appealing mix of mediums and in consideration of the character of the work to be exhibited. Assignments are at the sole discretion of the Art Fair and are not interchangeable. While KMAF attempts to honor specific space location requests, no guarantees can be made.
Artist Selection
Selection is managed each year through a jury process. The exception to this process is the prior year's participants whose sales were in the upper 25%. Those artists are automatically invited to return. Artwork is juried/accepted in the categories described below. These labels aid us in balancing the show. Please indicate which label best suits your work. If you are unsure, the ultimate use of the item will determine its category.
Our Waiting List is made up of artists who have gone through the jury process. This is the only way an artist can be placed on the Waiting List. Artists are selected from the List to replace cancellations based upon category and location of booth space.
Helpful Hints
The weather at the Fair can be unpredictable. Situated outdoors in the redwoods at approximately 2,250 feet elevation in the Coastal Mountain Range, we may experience coastal fog and strong fog drip under the redwoods – bring something to cover yourself and your art. It can also be quite warm. Should this occur, watering cans will be available to keep the dust down. In any weather, the show will go on!
The most convenient overnight accommodations are located in San Mateo, Foster City, Belmont and Half Moon Bay. Portola State Park is within 45 minutes of the Fair.
Camping overnight on the Fair grounds is permitted. Since Kings Mountain is in a forest fire hazard area, open fires are prohibited. Chemical toilets and a wash area with running cold water are available. There are no kitchen or shower facilities.
The Art Fair offers breakfast and lunch prepared and served in a separate area by volunteers to customers, artists and volunteers. There are no commercial food vendors. There is one restaurant near the Fair.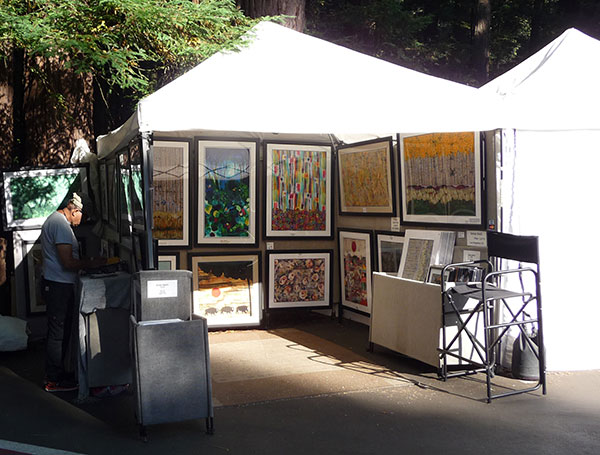 Categories
Please note: per the Art Work criteria policy, no forms of mass production are permitted in any category. Different categories may not be combined in the same booth. The ultimate use of the item will determine its category.
Ceramics
All original clay and porcelain work, other than jewelry, is accepted in this category.
Clothing and Accessories
Wearing apparel is accepted in this category, including hand-woven or hand-sewn clothing, hand-screened or hand-painted by the artist ready-made clothing. Also included are scarves, hats, purses and belts. No machine tooling or machine-screened patterns are permitted.
non-jewelry works crafted from metals. No production studio work is allowed.
Glass
All original glass work, other than jewelry, is accepted in this category.
Jewelry
All jewelry, whether the work is produced from metal, glass, clay, fiber, plastic, or other materials, must be entered in this category. No commercial casts, molds or production studio work is allowed.
Metalwork
Includes all non-sculptural, non-jewelry works crafted from metals. No production studio work is allowed.
Miscellaneous
Any work that doesn't fit the description of any other category is considered "miscellaneous." If your medium is recorded music, it may be presented at the Fair only through headphones and/or live performance. There is no stage/performance area. Food and body product items are not accepted.
Painting/2D
Works created in oils, acrylics, watercolor, etc. fall into this category. Also included are works created using dry medium including chalk, charcoal, pastels, pencil, wax crayon, etc. or from the fluid medium of inks and washes applied by pen or brush; serigraphs, lithographs, offset lithographs, and etchings of limited edition prints signed and numbered within reasonably sized editions executed in processes involving four-color separation, acid free ink, archival paper, and/or hand work by the artist. Printmakers are strongly encouraged to do their own printing.
Photography
Photographic prints made from the artist's original image, which have been processed by that artist, or under their direct supervision, are included in this category. One-of-a-kind prints, as well as multiple prints are included. Prints made from negatives, transparencies, or digital files and manipulated with computer programs and printed on large scale ink-jet printers are also included. Photographers are required to disclose both their creative and printing processes. All pieces must be signed, numbered and dated, in a limited edition. Prints must meet "archival quality" standards.
Sculpture
Three-dimensional original work done in any medium, including built-up works in wood, ceramics or metal, is included in this category.
Textile/Fiber
All work crafted from fibers including basketry, batiks, embroidery, weaving, tapestry, and papermaking are included in this category. No machine tooling or machine-screened patterns are permitted.
Wood
Original works in wood that are hand-tooled, machine-worked, turned, or carved are accepted in this category.
How to Apply
Once in the application, please review the additional, more detailed instructions.
Applications accepted only between November 15 and January 31.

Must be accompanied by five to ten images of your work and an image of your booth set up at a fair, which will be scrutinized closely by the Jury. Your booth photo gives a quick overview of the size, variety and cohesiveness of the work, but also is a reflection of an artist's ability and willingness to display their work. (More is not necessarily better.) It is acceptable if people and/or your name are included in the booth photo.

Applications without a booth photo will NOT be accepted.

Image format:

jpg

or

gif

; 50kB-5MB, minimum 500 px wide. Please orient your images correctly.

In addition

, we request a short (less than 3 minutes) introductory video of you describing your work in .mov, .mp4 or .wmv format to facilitate any last minute need to pivot to virtual. This will count as one of your 10 images and will also help us improve our online presentation of your work.

Must include a description of your art form, technique and process. Please define terms to give the jury a common language with which to work. A resume of recent shows is also required. You will also note the price range of your art.
Must include a $20.00 (check or through PayPal) non-refundable jury fee.
Complete application must be received by January 31.
You will be notified by March 15 of acceptance or non-acceptance. The judges will also select the alternates for our Waiting List. Alternates will receive a notice to this effect.
If you have difficulty with the application process, please contact kmafsecty@kingsmountainartfair.org or call (650) 851-2710.
APPLY NOW